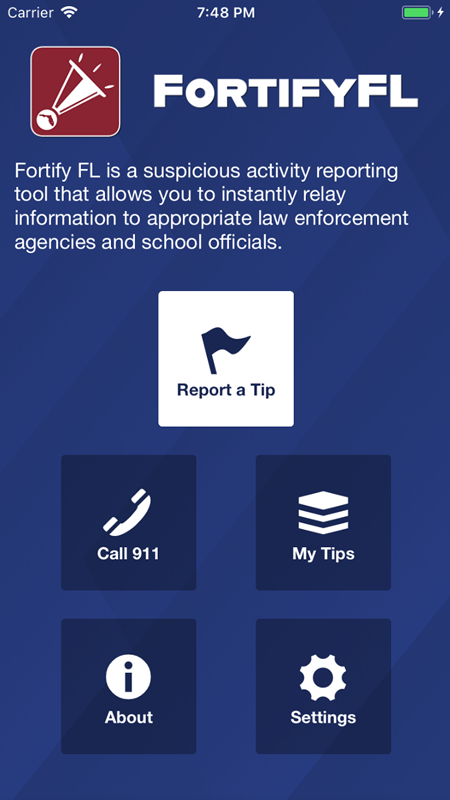 Awareness is an important part of preventing threats in Florida. FortifyFL allows students, parents and teachers to feel secure reporting possible crimes, threats or unsafe situations anonymously through an easy-to-use app.
Schools should be safe places where students, educators and visitors can experience and share the joy of learning without fear.
The tragedy at Marjory Stoneman Douglas High School serves as a reminder that we must remain vigilant at all times. The FortifyFL app makes it simple for anyone to report anonymously school safety concerns, and I urge all Floridians, parents and students, to download the app today.
The FortifyFL app is available for download in the Apple App Store and Google Play. Tips can also be submitted online at
GetFortifyFL.com
If you are a Passport student in need of help with a problem click here to send us an e-mail.
School supply list by Grade Level:
Kindergarten
,
First
,
Second
,
Third
Fourth
,
Fifth
,
Middle School
To access student's grades
from
click on the link below.
Skyward.ocps.net
Passport Parent/Student Handbook
Code of Student Conduct 2019-2020- Click here
Tobacco Free School Policy
Anti-Bullying Policy
Bullying Reporting Form
Title I:
Title I Information Packet
Parent and Family Engagement Plan 2018-2019
Student Enrollment/Registration Form:
Student Registration Form (English)
Forma de Registración de Estudiante (
Español
)
(You may only complete this form when your child
has been accepted by our school.)
Enrollment Policy: click here for information about student enrollment
Controlled Open Enrollment Plan: click here for information on Controlled Open Enrollment
Spelling B List Link:
myspellit.com
Summer Reading/Math List by grade
This web site is designed to help students with Summer Reading and Math activities.
Florida Department of Education
This site provides information about the public school system in the State of Florida.
For information about
the
State Standards
click here.
Orange County Public Schools
Click here to access information about the Orange County School District.
Pearson Realize
To access our online K-5 Reading, Math, and Social Studies curriculum visit this site. Students are able to access our texbooks via the web. Studentns can also access their homework online.
Homework Helper
Need help with your homework? Need to do Internet research or find articles for a school project? Here's a great place to start. You can also get help at Homework Helper from OCSL (Orange County Library System)
Khan Academy
This site provides information and educational resources for all subject areas. Please use the log in information below for free access.
Digits Math– Middle School
Click here to access resources on our Middle School Mathematics curriculum.
Britannica Online
This site provides educational resources and research information for students. Please use the log in information below for free access.
User ID: ocps Password: orange
Florida Electronic Library
The Florida Electronic Library is a gateway to select Internet resources that offers access to comprehensive, accurate, and reliable information. Available resources include electronic magazines, newspapers, almanacs, encyclopedias, and books, providing information on topics such as current events, education, business, technology, and health issues. The Florida Electronic Library offers information for all age groups, including homework help for students and resources for teachers.
Other Instructional Links:
JUST TAKE 20 PROGRAM
I-READY
ISTATION
RAZ-KIDS.COM
MobyMax.com
SPELLINGCITY.COM
Sumdog.com
IXL.com
Kids.gov This site contains resources and help for all subjects
Brainpop.com